Who We Are
Blanchard Institute is a 501(c)(3) nonprofit organization founded by Ken and Margie Blanchard. We offer a Student Self Leadership program developed from the successful leadership content taught by The Ken Blanchard Companies for over 40 years.
Our Purpose
Blanchard Institute exists to prepare, educate and equip young people around the world to take charge of their lives by developing accountability, confidence and a strong belief in themselves so they can take initiative to achieve their dreams. We teach skills that enable youth to overcome barriers and persevere against life's inevitable challenges and lead others to do the same.
Our Values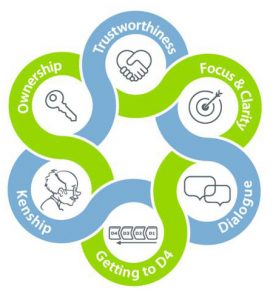 Trustworthiness
We are fair, ethical and follow through on our commitments to our employees and our clients.
Getting to D4
We are committed to helping our people and our clients get to D4—the highest level of development in the SLII model.
Focus and Clarity
We focus on what we do best and strive to build on our strengths to maximize the impact for our clients.
Dialogue
We value conversation and talk things through. We collaborate with others to encourage new ways of thinking to overcome challenges, solve problems, and make improvements.
Kenship
We value Ken Blanchard's spirit of compassion, humility, and abundance. Kenship describes our commitment to create connected relationships, serve others, and have fun.
Ownership
Everyone at Blanchard Institute takes personal responsibility for keeping our organization nimble, innovative and healthy.
What We Do
We offer the Student Self Leadership program to schools and other organizations that support youth. The program is available online or in hard copy for middle school, high school and college students. The Student Self Leadership program is available in several formats and lengths.
We have qualified instructors to deliver the program or we can support teachers and facilitators who wish to deliver it themselves.
Blanchard Institute awards grants and scholarships to students, teachers and facilitators who wish to attend or teach Student Self Leadership.
We deliver this course to the children of Blanchard employees and enable other organizations to do the same for their employees.